Our Production Homogenizer's have the following:

Twin synchronised intensifier for continuous smooth operation and consistent processing, operation at working pressures up to 400 MPa (58,000)

Flow rates to 330 l/hr

Processing options of piston gap valves and micro channels (interaction chambers) to ensure optimised and customised processing to suit the application.

PLC based control logic now with touch screen HMI interface with integral data logging of primary process parameters (pressures and temperatures) and communications options to third parts systems. Software and data logging suitable for production pharmaceutical applications.

Temperature control with heat exchanger options for system inlet, in process and outlet post process. While primarily for process cooling for applications such as SLNs and Liposomal preparations requiring higher temperatures combinations of heating and cooling can be provided.

Wetted surfaces are polished to meet typical industrial pharmaceutical and biotech requirements.

Corrosion resistant materials on all product wetted surfaces and ultra-high-grade corrosion resistant steels on main pressure containment elements. Technical ceramics, PCD and tungsten carbide on critical high wear components.

Stainless steel enclosure with transparent viewing windows and interlocked hinged front cover doors.

Full documentation packs, provision of DQ/IQ/OQ.

CIP and SIP capability

Designed and manufactured by Homogenising Systems, our homogenisers are fully supported with global installations.

The very high performance 085 range is complimented by the 11300 range with its patented construction which allows unrivalled simplicity for maintenance, cleaning and SIP.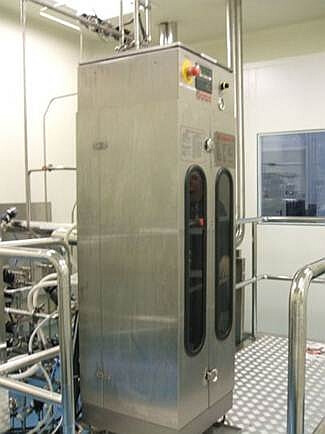 11300 model in pharmaceutical clean room
Also see Production Homogenizer image below
Patented Construction
A unique intensifier design, referred to as Hyd-Lok, uses a hydraulic clamping mechanism, rather than bolts, to lock the intensifier assemblies together during operation. The ability to open the intensifier assembly at the push of a button without tools offers huge benefits for routine cleaning, inspection and maintenance, which can all be handled by the operator. Reassembly is automatically controlled to the correct closing force, eliminating the need to tighten bolts to proper torque and the possibility of galling.
The Hyd-Lok technique has recently been incorporated into some of the flow control valves and homogenising valve options, enabling SFP's production systems to handle the most challenging requirements.
Reliability and durability
Robust electro-hydraulic drive system driving one or two (electronically synchronized) intensifiers. Each intensifier makes 2 to 12 strokes per minute, keeping seal and other component wear to a minimum, resulting in reliable operation and low cost of ownership.
Simple operation
Sophisticated PLC-based control and monitoring system, for simple push-button operation. This provides the operator with alphanumeric display with menu driven operation and fault diagnosis. The PLC digitally displays the system's temperature and pressure, and has a communications port to allow connection to PCs or suitably interfaced data loggers.
Temperature Control
The nG11300 family includes sophisticated temperature control systems, enabling pre-cooling or pre-heating (as needed for processing liposomes), post-cooling, and maintaining the process section at a constant temperature (for products where this is critical to maintain smooth flow).
Easy to clean
Many applications demand that the equipment is thoroughly clean with no trace of previous use. Unlike other homogenizers, where plungers, intensifier, diaphragm etc. include dead areas that form condensate traps, the Hyd-Lok system has a steaming configuration to ensure total sterilization. When set to 'steaming position', sliding steaming cuffs operate through a number of paths while clamping, ensuring wetted surfaces are automatically exposed to temperature and vapour that remove all traces of contamination.
In addition, the principal wetted assemblies are extremely easy to disassemble, clean, inspect and reassemble.
Easy to Service
Scheduled maintenance is critical to proper and consistent operation of all high pressure homogenizers. The Hyd-Lok construction makes most routine maintenance tasks simple and within the scope of even basically trained operators. No longer does routine maintenance require specialist skills or even outside assistance; and such maintenance is accomplished quickly and easily without the protracted strip down associated with traditional high pressure designs.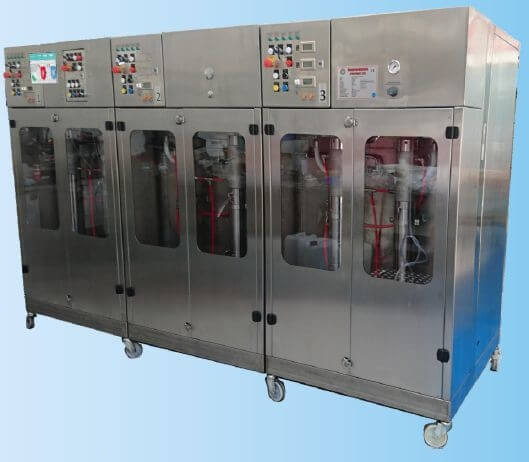 Quick Contact for more information